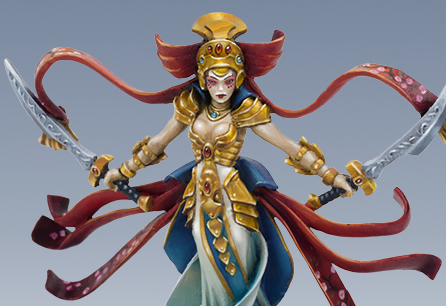 Latest release: Himiko
Himiko is a beautiful Yannick Hennebo sculpt, and stands 46mm tall to the top of her head-dress, she has been brought to life in stunning detail and animation. The latest in our series of Japanese inspired miniatures (Azumi, Akarui and Shisou), we think this one will be as popular as the ones that came before
Sculptor: Yannick Hennebo
Painted by: Ali McVey
About the range
Each of our Limited Edition resin range is hand cast in short-run moulds to ensure the miniatures are as close to the original sculpt as we can possibly achieve. Each miniature edition is strictly limited to 750 castings, and comes with a certificate of authenticity sighed by Mike McVey, the Studio Director. Once the run is sold out, the miniature will never be produced again.
We only work with the most talented concept artists and sculptors in the industry, and take great pride in the originality and execution of these fine miniatures. We work at approximately 35mm scale for this range – just a little larger than typical gaming miniatures, but with far more realistic anatomy and proportions.
Assembly instructions
As these miniatures are produced in high quality PU resin, which needs a slightly different treatment than plastic or metal miniatures when you are cleaning  and assembling them.
The first thing to remember is that resin miniatures are a little more fragile than metal and plastic miniatures, especially as we can get away with more adventurous poses and fine levels of detail. With a little care and attention though – they can be used for gaming as well as display.
It's actually easier to prepare, clean and assemble resin miniatures than their metal and plastic counterparts, and with less work you can achieve fantastic results. The video on the right runs you through the process.